Fashion-wise, Spring Summer 2012 is one to be excited for! There are 7 Key Trends rocking their way down the catwalk this season:
This post will zoom in on 2 of these eye-catching trends: Pastels and Metallics. I'll be show casing the best buys of each trend, along with personal opinions and brief summaries.
The Pastel look is definitely my favourite trend this season. Girly, classy, upmarket and glamorous, this trend is surely one for the girly-girls! Ice cream shades were all over the catwalks at Louis Vuitton, Chanel and Alexander McQueen. Think mint sorbet, strawberry suprise and creamy vanilla. Look out for: Pastel satchel bags
I love this top so much- the cute, on-trend design, hand designed flowers and
pretty pastel colour- must have!
Paul's Boutique is
the
place to go to find top-quality, gorgeous bag. This one is no exception. This large Maisy bag is bang on trend and big enough to keep all your handbag essentials in!
Yum. These skinny jeans are the season's must have. Coloured jeans are very on-trend at the moment and you can create a twist on the trend with a pretty pastel shade. And at that price, you can buy them in all the different colours!
Trend 2:Metallics
Edgy, quirky and unique- metallic styled clothes are very hot. Wherther it's just a simply metallic headband or a attention seeking metallic maxi- every girl should have an item of the metallic fame in their closet this season. Seen on all the hot catwalk shows, its a trend you don't wanna miss out on!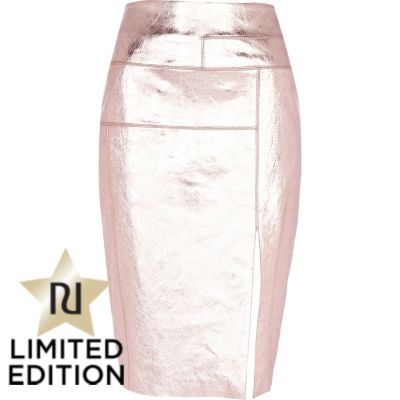 Try mixing two trends into one with this pastel coloured metallic pencil skirt from River Island. Team with a simple black bustier and killer black heels for a pretty night-time look.
Make a statement with these gold metallic leggings. Let them be the centre of your outfit and don't over do it! I think these leggings are gorgeous because they are bang on trend, cheap and versatile.
These dinky little ballet pumps are so adorable! A simple way to confront the metallic trend, these pumps will easily replace your boring old black ones. The great thing is- they'll see you all the way through until next September! Bargain!
Well that's all from me now! I hope you enjoyed reading this trends posts! If they go down well, I'll try to do another one sometime soon if I have any spare time! Let me know what you think- opinions on the items and wherter you'll wear the trends or not!
-Rachel xo